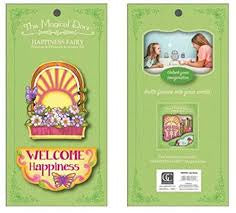 The Magical Door~Happiness Fairy Accessory Set
2 piece

The Magical Fairy Door Happiness Fairy Theme 2pc. Accessory Set. Protection Window with Flower Box, Doormat with Welcome Happiness sentiment. Enchanted miniature collection inspires imagination and creativity with its selection of themed gift sets and accessories. 

Crafted from quality resin w/ rich, vibrant colors and intricate detailing.

Simply peel off adhesive backing and affix to wall.

Window measures approx 3.5" tall x 3" wide; Doormat measures approx. 1.75" tall x 3.5" wide.

This kit matches the Happiness Magical Door.