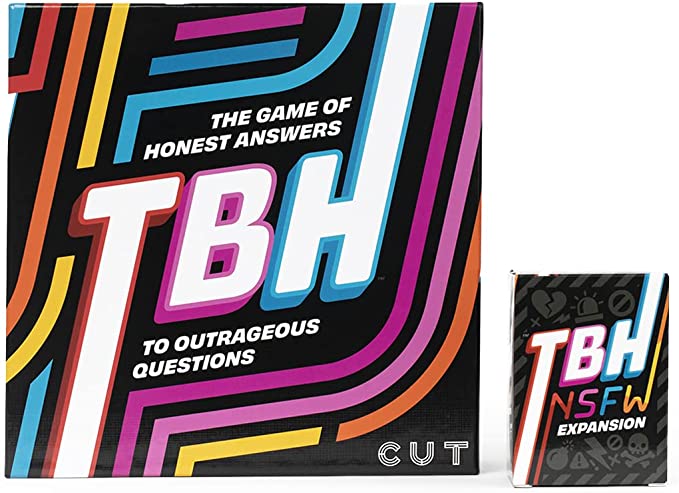 TBH: The Board Game + Expansion Pack by Cut
ABOUT THE GAME: TBH is a wild board game about creating absurd dilemmas, and then predicting how the other plays will react to them. The bundle for adults 18 is "would you rather" meets group storytelling!

WHAT'S INCLUDED: 345 unique dilemmas to debate with your friends and family + 168 dirty dilemmas + 16 answer cards with 32 guess cards + 8 player boards with 8 player pieces + 1 scoreboard to keep track of who has the most points.

HOW TO PLAY: One player is the "Dilemma Boss", and chooses two cards and reads one from the deck of prompts. The other players then respond with follow-up questions, to try and define the parameters of the hypothetical. Not only will you answer for yourself, but you'll collectively shape unique rules for each new dilemma!

SOCIAL PARTY GAME: Dive deep into strange hypothetical situations with your friends and family. It's weird, hilarious, and never the same twice. Ages 14+ | 3-8 players | 60-90 minutes to play | 18+.

MADE BY CUT: Our games are inspired by our hit YouTube channel with 11 million subscribers (and counting!). Our goal is to bring people together, one awkward conversation at a time. Now it's your turn! Only a game stands between you and proving how well you know your friends. Up for the challenge?